Valentines Day cookies are a sweet and romantic treat that is perfect for celebrating the holiday of love. Whether you're looking to surprise your significant other with a batch of heart-shaped cookies or want to share the love with friends and family, there are plenty of creative and delicious Valentines Day cookies recipes to choose from.
From classic sugar cookies and Cookie Bars to more uniquely decorated cookies, there are endless options for making Valentine's Day cookies.
Classic Valentine's Day Cookies
Sugar cookies with frosting and sprinkles
Red velvet cookies with cream cheese frosting
Chocolate chip cookies with pink chocolate chips
Unique Valentine's Day Cookies
Chocolate-covered strawberry cookies
Rosewater and lavender shortbread cookies
Spiced gingerbread cookies with heart-shaped cutouts
Vegan and Gluten-Free Options
Vegan sugar cookies with vegan frosting
Gluten-free chocolate chip cookies with heart-shaped cutouts
Vegan red velvet cookies with vegan cream cheese frosting
Decorating Ideas for Valentine's Day Cookies
Heart-shaped cookies with royal icing
Cookies decorated with sprinkles and edible glitter
Cookies with personalized messages using food-safe markers
Why cookies are a perfect treat for Valentine's Day ?
Cookies are a perfect treat for Valentine's Day because they are easy to make, customizable, and can be shared with loved ones.
Whether you're a seasoned baker or just starting out, there are plenty of simple cookie recipes that can be adapted for the holiday.
Plus, cookies are a versatile treat that can be enjoyed as a dessert, snack, or gift.
They can also be decorated and personalized in a variety of ways, making them a perfect choice for expressing love and affection on Valentine's Day.
So, whether you're an experienced baker or a beginner, these sweet treats are sure to be a hit. So why not get creative in the kitchen and whip up a batch of Valentine's Day cookies this year?
Delicious and Romantic Valentines Day Cookies Recipe
23. Red Velvet Sugar Cookies
22. Strawberry Kiss Cookies
21. Raspberry and White Chocolate Shortbread Cookies
20. Valentine's Day Cookie Bars
19. Heart Meringue Cookies
18. Valentine's Day Heart Sugar Cookies
17. Cupcake Decorated Cookies
16. Valentine Fortune Cookies
15. Valentine Cookies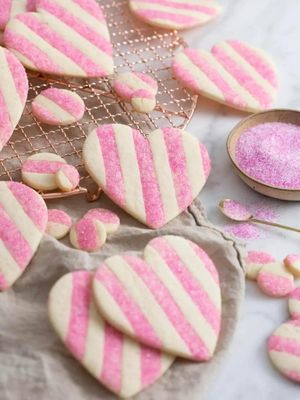 14. Heart-Shaped Confetti Cookies
13. Valentine Chocolate Chip Cookies
12. Valentine Crinkle Cookies
11. Love Bug Oreo Cookies
10. Pinwheel Cookies
09. Pink Kiss Cookies
08. Soft & Chewy M&M Cookies
07. Strawberry Cake Mix Cookies
06. Valentine's Day cookies
05. Valentine's shortbread cookies
04. Strawberry Cheesecake Cookies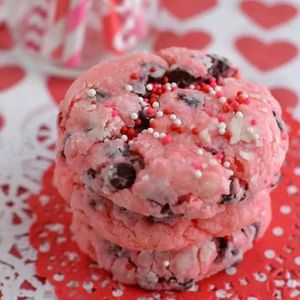 03. Chocolate Heart Cookies
02. Strawberry Champagne Cookies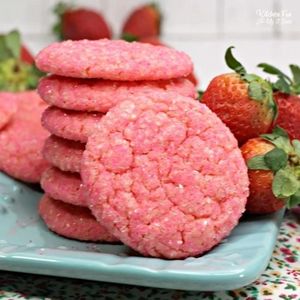 01. Buttercream Valentine's Day Cookies