If you are looking for Thanksgiving table decor ideas for this festive? Here we've rounded up some of our favorite Thanksgiving table settings. From modern Thanksgiving Table settings to rustic Thanksgiving table settings, there's sure to be something to suit your taste. There are plenty of Thanksgiving decorations ideas out there to get you inspired. So start planning your Thanksgiving feast today, and don't forget to set a beautiful table to enjoy it all!
When setting a table for Thanksgiving, there are a few things to keep in mind.
First, you'll want to make sure you have enough place settings for all of your guests.
Second, you'll want to choose a tablecloth or runner that compliments your Thanksgiving décor.
And last, you'll want to choose place settings that match your personal style.
Here are a few tips to help you create the perfect Thanksgiving table setting:
– Choose a tablecloth and napkins in a festive color or pattern.
– Add a touch of luxury with beautiful glassware and/or china.
– Use gold or silver chargers for a touch of elegance.
– Create place cards for each guest and use them to add a personal touch to each setting.
– Add some decoration to the table with a centerpiece, candles, etc.
And, if you're not sure where to start, we've gathered a few Thanksgiving table settings ideas to help you get started.
From simple and elegant to fun and festive, there are a variety of ways you can set a beautiful Thanksgiving table.
So, whether you're hosting Thanksgiving for the first time or you're a seasoned pro, we hope these ideas will give you some inspiration for your own Thanksgiving table setting.
Thanksgiving Wreaths
Thanksgiving Table Decor
Thanksgiving Decorations
21. Easy Thanksgiving Table Settings
FROM:- Bower Power Blog
20. Simple Thanksgiving Table Settings
FROM:- 1905 Farmhouse
19. Elegant Thanksgiving Table Setting
FROM:- Calypso In The Country
18. Fall/Thanksgiving Table Setting
FROM:- Le Cultivateur
17. Candle Lights Thanksgiving Table Setting
FROM:- Dear Lillie Studio
16. Thrusday Thanksgiving Table Setting
FROM: – @chicago_decor
Thanksgiving Centerpieces
DIY Thanksgiving Decorations
Dollar Store Thanksgiving Decorations
15. Floral Thanksgiving Table Setting
FROM: – @unetablebytania
14. Simple Red Thanksgiving Table Setting
FROM: – @essentiallygretel
13. Gorgeous Thanksgiving Table Setting
FROM:- @brendemarshalldesign
12. Simple Thanksgiving Table Settings
From:- @stil_interiorsandevents
11. Farmhouse Table Settings
FROM:- @a.firemans.wife
10. Blessed Thanksgiving Table Setting
FROM:- @deckersdazzlingclass
09. Beautiful Thanksgiving Table Setting
FROM:- @aptlife
08. Pumpkin Thanksgiving table Settings
FROM:- @myoldmasters
07. Beautiful Thanksgiving Table Settings
FROM:- @lindacphotography
06. Gorgeous Thanksgiving Table Settings
FROM:- @earlynewengland
05. Beautiful Thanksgiving table Settings
FROM:- @thewindylilac
04. Gorgeous and warm Thanksgiving tablescape
FROM:- @jennywrendesign
03. Simple Thanksgiving Table Setting
FROM:- @dweibring
02. Pumpkin & Flowers Table Settings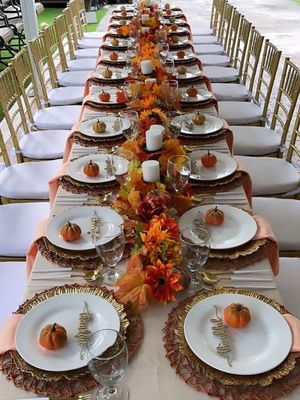 FROM: – @jismaysdecoration
01. Blue & White Table Setting
FROM:- @fancy_tables