Thanksgiving Wreaths are a beautiful and traditional way to show your holiday spirit. There are many different types and styles of Thanksgiving wreaths for front door that can be used to decorate your home for the holiday season. From harvest wreaths to Thanksgiving farmhouse wreaths there are plenty of Thanksgiving wreaths for decoration. So, what are you waiting for? Get started on your Thanksgiving wreath today!
As Thanksgiving approaches, many people are starting to think about decorating their homes for the holiday.
One popular way to do this is by hanging a wreath on the front door. Thanksgiving wreaths are a great way to show your holiday spirit and add a touch of warmth to your home.
There are many different ways to make a Thanksgiving wreath. You can use traditional fall materials like leaves and berries, or get creative with pumpkins, nuts, and other seasonal decorations.
You can even make a wreath that celebrates the harvest, with fruits and vegetables from the season.
Whether you make your own wreath or buy one premade, adding a wreath to your door is a great way to welcome guests to your home this Thanksgiving.
Thanksgiving Table Decor
Thanksgiving Decorations
Thanksgiving Centerpieces
21. Farmhouse Thanksgiving Wreath
20. Pumpkin, Berry, and Maple Leaf Wreath
19. Thanksgiving Wreath with White Pumpkins
18. Harvest Farmhouse Wreath
17. Pumpkins, Pinecone Flowers, and Maple Leaf Wreath
16. Thanksgiving Front Door Wreath
Thanksgiving Table Settings
DIY Thanksgiving Decorations
Dollar Store Thanksgiving Decorations
15. Grain Wreath
14. Thanksgiving Wreath with Blessed Sign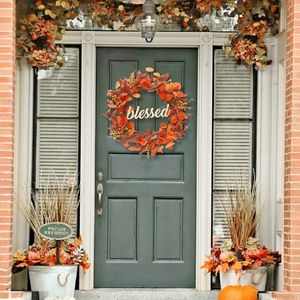 13. Artificial Maple Leaves, Sunflowers and Pumpkins Wreath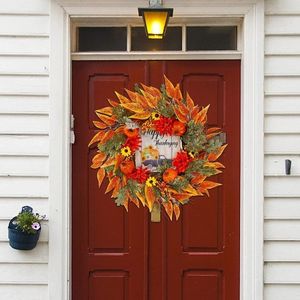 12. Floral Wreath with Colorful Daisies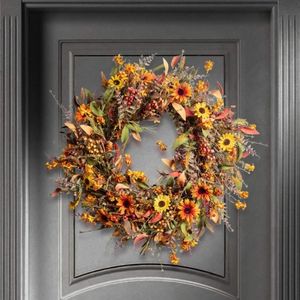 11. Pumpkin, Maple Leaf, and Berry Wreath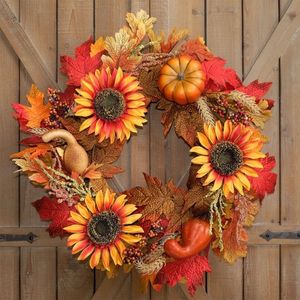 10. Thanksgiving Wreath for Indoor Outdoor
09. Warm Light Thanksgiving Wreath
08. Thanksgiving Wreath for Front Door Decoration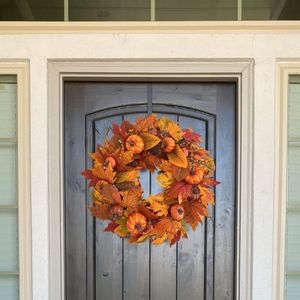 07. Farmhouse Thanksgiving Wreath
06. Pumpkin Pinecone Berry Artificial Maple Leaves Wreath
05. Pumpkin, Pinecone, and Berry Artificial Maple Leaves Wreath
04. Pumpkin and Sunflower Wreath
03. Pumpkin & Pinecone Thanksgiving Wreath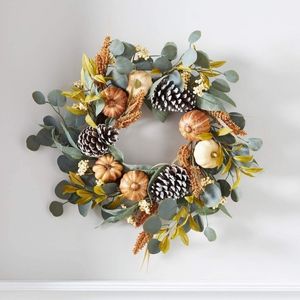 02. Thanksgiving Wreath Bows
01. Berry Wreath
PIN THESE TO YOUR THANKSGIVING BOARD