Looking for ideas to create an unforgettable Easter brunch with your family? Check out our Easter brunch recipes that are easy to make and perfect for any brunch menu. From delicious brunch dishes to beautiful Easter brunch table decor, we've got you covered. Get inspired by our Easter brunch ideas and make this holiday extra special with your loved ones!
Easter is a wonderful time to gather with family and friends and celebrate the arrival of spring.
And what better way to do that than with a delicious Easter brunch?
Whether you prefer sweet or savory dishes, there are plenty of options to choose from that will satisfy everyone's taste buds.
Some classic Easter brunch dishes include quiches, frittatas, and deviled eggs.
For those with a sweet tooth, hot cross buns, cinnamon rolls, and carrot cake pancakes are all popular choices.
And of course, no Easter brunch would be complete without a mimosa or two.
When it comes to Easter brunch table decor, pastels, and floral arrangements are always a hit.
Fresh flowers, colorful tablecloths, and festive place settings will create a welcoming atmosphere for your guests.
With so many delicious dishes and beautiful decorations to choose from, hosting an Easter brunch is a perfect way to celebrate this special holiday with loved ones.
So start planning your menu and decor, and get ready for a memorable Easter brunch!
Festive Easter Brunch Ideas
15. Mini Easter Cheesecakes
14. French Toast Casserole
13. Blueberry Muffin Cake
11. Easter Basket Bundt Cake
10. Spinach & Feta Quiche 
9. Fruit Tart
8. Colored Deviled Eggs
7. Maple Bacon Sweet Potato Hash 
6. Croissant Egg & Cheese Egg Bake
5. Crockpot Breakfast Potatoes
3. Ham & Cheese Croissant Casserole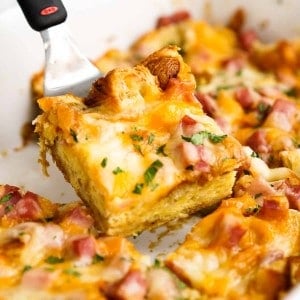 2. Maple Bacon Pancake Bites
1. Ham Cheese & Spinach Puffs