Looking for delicious and easy spring pasta recipes? Try this mouth-watering dish featuring fresh ingredients such as asparagus, cherry tomatoes, and lemon zest! These easter recipes are perfect for quick spring dinners or easter brunch. Plus, it's packed with healthy nutrients and is vegetarian-friendly. And you'll also find spring pasta salad recipes. Impress your family and friends with these tasty spring pasta recipes today!
Spring pasta dishes are all about incorporating the freshest seasonal ingredients to create light and satisfying meals.
One popular ingredient for spring pasta is asparagus, which pairs perfectly with pasta in a variety of dishes.
For example, you could make a simple and elegant pasta dish with fresh asparagus, lemon, and Parmesan cheese.
Another great option is to use fresh peas in your pasta, whether they are English peas, snap peas, or sugar snap peas.
Peas add a sweet and delicate flavor to pasta dishes and work well with creamy sauces.
In terms of pasta shapes, consider using lighter varieties such as angel hair or spaghetti for a more delicate and refined dish, or use larger shapes like fusilli or rigatoni to hold up to heartier ingredients.
With so many delicious options to choose from, spring pasta is a wonderful way to celebrate the season and enjoy the fresh flavors of springtime produce.
Fresh Spring Pasta Recipes
15. Basil Pasta + Lemon Garlic Butter Sauce
14. Greek Orzo Pasta Salad
13. Pasta + Asparagus in Lemon Cream Sauce
12. Parmesan Zucchini Tomato Chicken Spaghetti
11. Creamy Lemon Asparagus Pasta
9. Vegetable Pasta + Bell Peppers & Asparagus
8. Lemony Pea Orecchiette + Prosciutto & Arugula
7. Lamb Pasta + Springtime Veggies & Lemon Pesto
6. Pasta + Asparagus & Cherry Tomatoes
5. Lemon Pasta + Ricotta & Fresh Peas
4. Creamy Chicken Pesto Pasta
3. Pasta & Peas
2. Pasta Primavera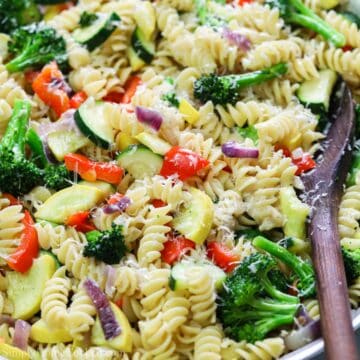 1. Creamy Pasta Primavera