Spring is the perfect time to indulge in delicious and beautiful spring cakes that celebrate the season's vibrant colors and flavors. From lemon to strawberry to floral-inspired designs, there are countless ways to create stunning spring cake ideas that are sure to impress. So, whether you're an experienced baker or a beginner looking to try something new, let's dive into the best spring cake inspiration.
Spring cakes are a great way to add some color and sweetness to any celebration.
One classic spring cake recipe is the carrot cake, which is perfect for Easter or any springtime gathering.
You can add a twist to this classic recipe by incorporating fresh fruits and nuts, or by experimenting with unique frosting flavors like cream cheese, vanilla, or even lavender.
For a more floral-inspired design, you can try making a cake with edible flowers like pansies, roses, or violets.
These beautiful and delicate flowers can be used to create a stunning cake decoration that's perfect for a spring wedding or garden party.
Lemon cakes are also a popular choice for spring, as they're both refreshing and decadent.
You can try making a lemon poppy seed cake, a lemon drizzle cake, or even a lemon meringue cake.
The bright and tangy flavor of lemon pairs perfectly with the fresh and vibrant colors of spring.
Another favorite spring cake flavor is strawberry, which is perfect for showcasing the season's freshest berries.
You can try making a classic strawberry shortcake, a strawberry cream cheesecake, or even a strawberry rhubarb cake.
The sweet and juicy flavor of strawberries is sure to delight your taste buds and add a touch of spring to any occasion.
Overall, spring cakes are a great way to celebrate the season's flavors and colors.
With a little creativity and inspiration from Pinterest, you can create a stunning cake that's both delicious and beautiful.
Cute Spring Cake Ideas
21. Strawberry Swirl Bundt Cake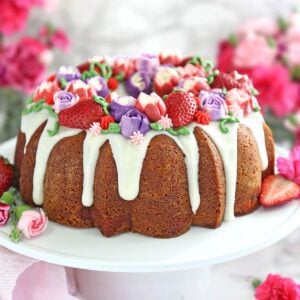 20. Holi Thandai Spring Cake
19. Spring In Bloom Layer Cake
18. Painted Buttercream Spring Carrot Cake
17. Strawberry Lemonade Cake
16. Spring Lemon Blueberry Cake
15. Lemon Elderflower Cake
14. Strawberry Margarita Layer Cake
13. Strawberries & Cream Cake
12. Lemon Strawberry Cake
11. Spring Flower Pot Cakes
10. Honey Chamomile Cake
9. Blackberry Lime Cake
8. Lemon Layer Cake + Blackberry Italian Meringue Buttercream
7. Cascading Floral Cake
6. Blueberry Lemon Cake
5. Strawberry Cake Roll
4. Berry Mascarpone Layer Cake
3. Perfect Carrot Cake
2. Floral Spring Cake
1. Strawberry Chamomile Naked Cake